SMILE and tap your feet to the driving beat of The Stardusters! For more than eighteen years, The Stardusters have been entertaining audiences all over the Charlotte Metro and surrounding area. Why are we so popular? Because, no matter your age, the bright horns and smooth vocals of Glenn Miller, Benny Goodman, Tommy Dorsey and Jimmy Dorsey, and many others, just makes you want to get up and dance! 
If you'd like to book The Stardusters, we are available for dances, parties, weddings or concerts. Whether you need to Rumba, Samba, Tango, Lindy Hop, Charleston, Waltz--or if you don't dance at all and just want to tap your toes to some fantastic music--The Stardusters can tailor our performance to your needs! Just call our business manager, Ken Todd at (704) 964-4000, or click on the "Contact Us" button at the top of this page. 
Welcome Back!
Howdy, all you Big Band fans. After nearly a year and a half, we would like to announce that The Stardusters Big Band is finally back in business! Is anybody ready to dance?!
All of us have passed through some tough times over the last year and a half. Many have lost jobs and income, many have made huge lifestyle changes to accommodate a withdrawn and closed society. Worst of all, many have lost loved ones to a terrible disease and then suffered silently and alone, unable to get out and share their feelings or celebrate the lives of those they have lost. These unprecedented events have left us all shocked and exhausted, wishing for better times of the past, better times for the future. 
Nostalgia isn't the wish that things will always stay the same; it is the knowledge that we cannot arrive at a destination without passing through all the places on the way. We can't change the past, nor can we relive it. But we can acknowledge it and, by honoring it and keeping it alive in our hearts, we can honor those we lost; whether it was to the awful scourge of Covid 19 this past year; or to another disease in another year long ago; or to a bullet or an explosion thousands of miles away from home. 
Music has always been a reason for people to gather. This year, and for many years to come, we won't be able to take those gatherings for granted. It is our hope that we will all remember- the next time we are gathered together for any reason-to look around and appreciate every face in the crowd, to remember that every one of them suffered through this together, even if we were often kept far apart.
We would like, again, to thank all military personnel, firemen, police officers, nurses, doctors, and emergency medical workers, along with grocery store, drug store and restaurant employees, and all others who have endangered themselves to feed us, care for us and keep us safe during these unprecedented times. THANK YOU!!
We hope to see you out dancing very soon! Until then, here are some great old swing tune websites recommended by our directory Bill Todd, that might keep you entertained!
https://fredhallswingthing.com/
Glen Miller's "In the Mood" from 1941
Episode of The Ray Anthony Show, "The Story of the Big Band Era"
"Jersey Bounce" by Benny Goodman
Jimmy Dorsey Orchestra (1942), "Swing Dancing and Lindy Hopping Kids"
WOW! The "white tie" dancers at The Pinehurst Hotel two-step to our "Texas Swing Medley"! Your Stardusters entertained the Quadrille Club from nine until midnight with an exhilarating dinner dance.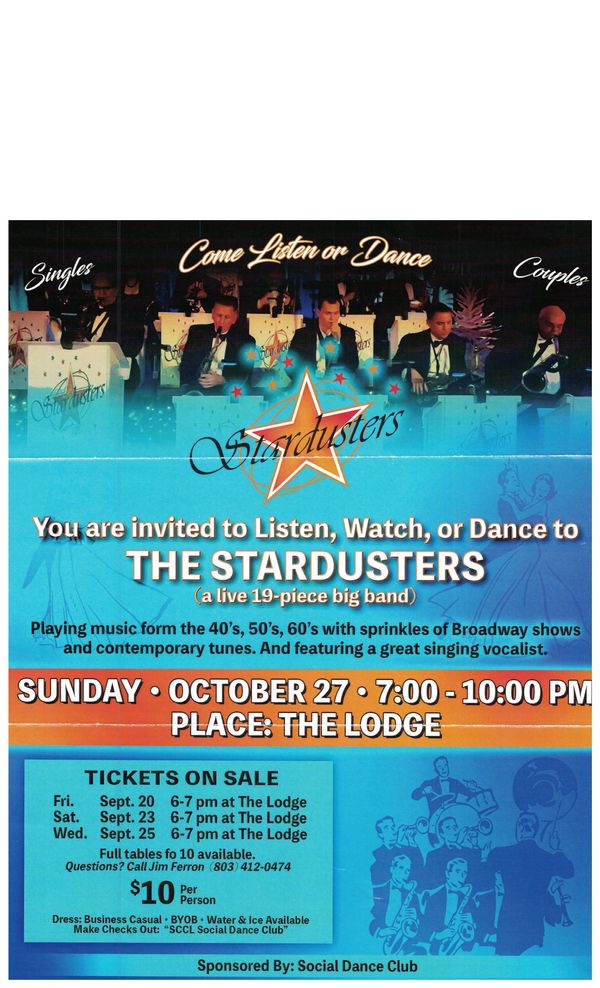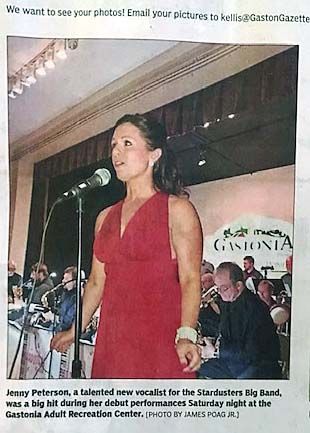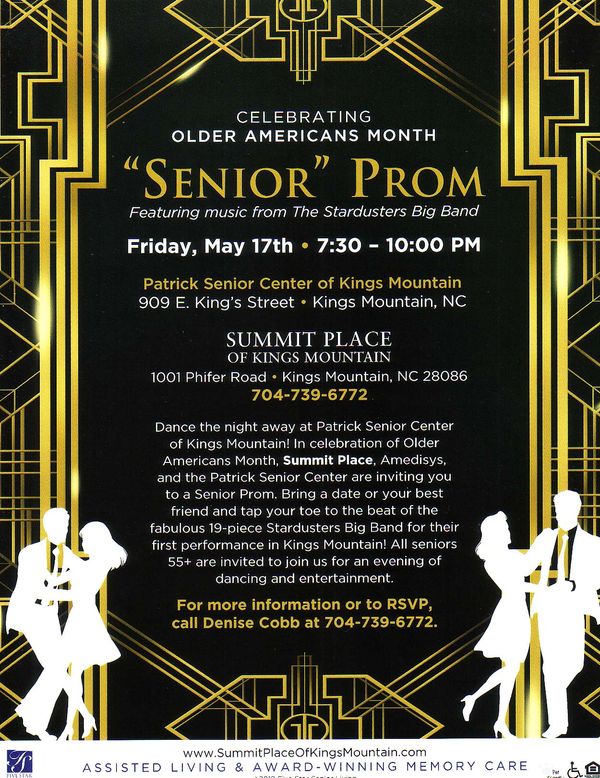 The Stardusters performing at
The Quail Hollow Country Club
Cugat Club Crown Jewels Ball