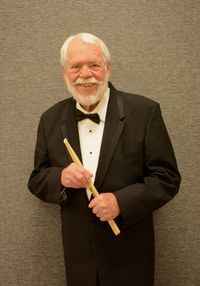 Ken Todd, Drums, Business Manager, Founder

Ken Todd was not deterred when his first teacher barked at him and said, ''I could teach more to a monkey.'' He picked up his sticks and joined the junior high band and he was off on a long career. High school music was followed by a stint with the Dan Ramsey Orchestra that ended in 1963 when he joined the Air Force, was assigned to Keesler AFB and joined a modern jazz quartet. A transfer to Shaw AFB in Sumter, S.C. allowed him to rejoin the Ramsey band before being transferred to Berlin.

After discharge he swapped his drums for a new suit, got married and moved to Washington with the Department of Defense. Transferred to Bad Aibling, Germany, he hooked up with a big band and played five years. Returning home he played with the Bay Side Big band out of Annapolis before being transferred to Harrogate, England where he joined the Par Five Jazz Orchestra, later organizing his own band, The Colonial Cousins. He retired in 1997, returned to his native Gastonia, N.C. and didn't play for a year until doing some work with The Basics, a rock group. When he couldn't find a big band to join, he and his brother, Bill, organized The StarDusters.
Bill Todd, Director, Arranger, Founder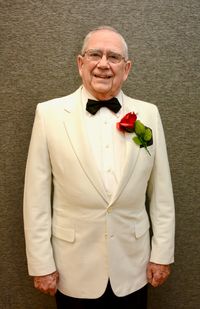 After a career in commercial and Naval Aviation, Bill helped his brother Ken organize The Stardusters in 1999. He is the music director and occasional trombonist. He also plays trombone with the Gaston Symphonic Band and freelances a bit locally.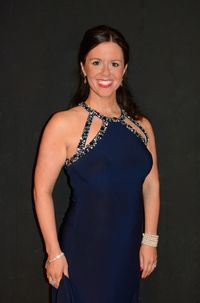 Jenny Peterson, Vocals
Jenny Peterson was raised on the Golden Age of Hollywood Musicals in the small town of Dallas, NC. This early exposure set her up with the dream of being the singer with a big band, and she still can't believe that dream came true in the 2000's with the Stardusters! 
Jenny holds a degree in Musical Theatre from Lees McRae College and has performed in regional theaters in North Carolina and onstage at theme parks in both North Carolina and Georgia. Locally, you may have seen her onstage with Black Star Theater Company, Little Theater of Gastonia and with the Abbey Players. Jenny is a group fitness instructor with Optum Health and works for Clariant Corporation in Mount Holly. She is married to Patrick and mama to two little songbirds, Ivy and Aria.
Trumpets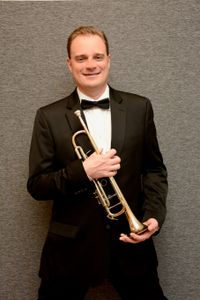 Crown Hoffman, Trumpet

Crown Hoffman began playing the trumpet in the fifth grade, then at North Gaston High.  He was one of the first student members of the Gaston Symphonic Band.  Crown furthered his music education at Lenoir-Rhyne University where he studied Sacred Music and performance.
 
Crown attended graduate school at Logan University in St. Louis, Missouri where he received his Doctorate of Chiropractic degree as well as advanced training in alternative medicine, human biology, and traditional Chinese Acupuncture .  In 2005 he began his practice in Gaston County and once again picked up his trumpet performing with the Gaston Symphonic Band, as a church musician, and most recently in 2014 a member of the StarDusters Big Band.
 
Crown enjoys spending time outdoors hiking and exploring the natural beauty of North Carolina with his wife, Dr. Kate Hoffman and their two children, Jordan and Elena.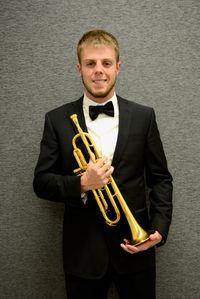 Kevin Clary, Trumpet
Bio Coming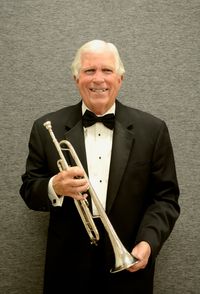 Jim Poag, Trumpet

Jim started playing the trumpet in the seventh grade. His dad was a fine tenor sax player, but Jim's hand's were not big enough to play the instrument. Jim studied and played under Frank Widenhouse in Belmont and played in a seven piece combo during high school, coincidentally called The StarDusters! He attended UNC Chapel Hill where he played with The Continentals and The University Concert Band.

He married while in college and transferred to the University of Georgia where he graduated with a BBA in Marketing/Sales Management and then worked for Beltex Corporation in Belmont and co-founded Fun Tees, Inc. and Gaston Screen Printing and Embroidery. He retired in 2003 after thirty five years as a textile executive.

After college, he did not play for over ten years and started back by playing in church, for weddings and with The Gaston Symphonic Band. The opportunity, however, to play with The Star Duster's big swing band for the past eighteen years has fulfilled a lifelong dream.
Jim lives in Gastonia, NC, and has three grown children and six grandchildren. Besides music, he loves golf, photography and traveling.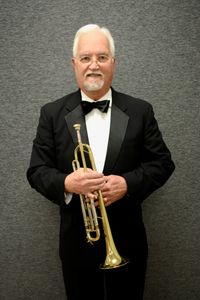 Roger H. Myers, Trumpet

Roger's love of music began when he was in the eighth grade and has been growing ever since. In between he has had two careers of equal duration ----- 14 years as a textile manager for Ti-Caro Inc., a textile corporation, and 14 years as a high school mathematics instructor. He has held the same position as director of music at Lutheran Chapel Church for 20 years. At North Gaston High School, where he graduated with honors, he played baritone horn, French horn and trumpet, eventually making the trumpet his main instrument.

At Mars Hill College he played with the symphony and stage bands until he graduated cum laude with degrees in mathematics and music education. He played with Coming Up Brass, a beach and rock band for five years, and has been with the Gaston Symphonic Band for nine years. He is one of the original members of The StarDusters. Roger's wife, Jeanette, is a middle school band director and their two sons, David and Seth, are brass players with the Gaston Symphonic Band.
Trombones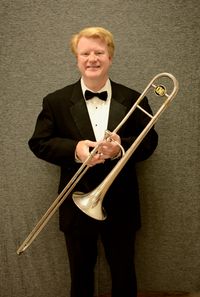 Brent Ballard, Trombone
Bio Coming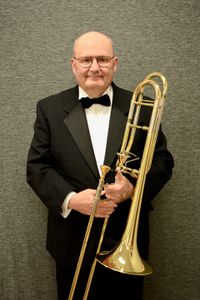 Leslie Dix, Trombone
Growing up in the Washington D.C. Metro area, Les had musical teachers from the third grade on who came from Navy, Air Force and Army bands around the city. So it was no surprise when he was invited to audition for the the Navy Band in 1969. He started his enlisted service at the Navy School of Music in Little Creek Virginia. After 26 weeks of "A" school training, a new Sixth Fleet Band was formed and stationed in Newport, Rhode Island.
The Sixth Fleet Band had a meager music library, so, in order to entertain the civilians in the port cities where the sailors would arrive for liberty a few days later, the band transcribed tunes from Chicago, Blood, Sweat and Tears and Buddy Rich (West Side Story), among others. The Sixth Fleet Band was a huge hit!
After the Navy, Les earned a degree in engineering and began his career with ALCOA in Alcoa, Tennessee. Having forsaken the trombone for a few years while earning his degree, Les found plenty of playing and teaching opportunities at the McGhee Tyson Air Base, home of the 572nd Air Force Band, and located conveniently across the street from the ALCOA plant. Eventually, Les was asked to join the band.
In 2009, after 29 years of combined service, Les retired from military service. In addition to the Stardusters, Les plays with numerous ensembles in the Charlotte area and continues his work as an engineer.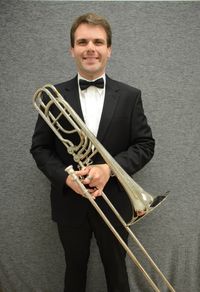 Mark Ewing, Trombone
Bio Coming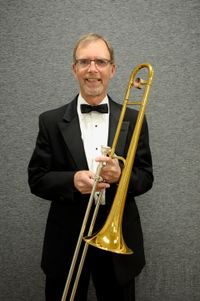 Dave Hurwitz, Trombone, Vocals, Guitar

Dave moved to the Charlotte area in 2013 after moving around the country in search of big bands to play with!  (Just kidding, but he has moved a lot!)  He played for many years with the Otsego (MI) Jazz Ensemble and while in the Bay Area, he played with the Contra Costa Jazz Band and the Walnut Creek Big Band.  He also played with big bands in Phoenix, Hackettstown, NJ and with the Penfield (NY) Rotary Band.
He got his start in 4th grade on Long Island playing the Baritone Horn (and still uses the mouthpiece he purchased from his band director there!).  Dave lives on Mountain Island Lake with his wife Leslie and Labrador Retriever Jaz.  In addition to playing trombone, Dave also plays blues guitar.  When not playing (or listening) to music, Dave also enjoys water skiing and snow skiing.
Saxophones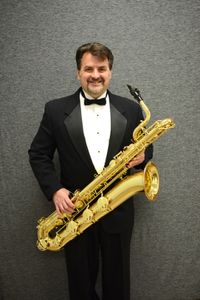 Barry Howard, Bari and Tenor Sax
Bio Coming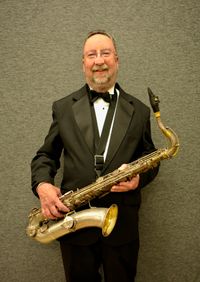 Bill Dunlap, All Saxes

Bill Dunlap was born in Charlotte and lived most of his life in Wingate, NC.  Bill is a musical instrument repair technician and did this full time for about 20 years before changing careers.

He has played with the Wingate College Orchestra and Bands and served as volunteer assistant director of bands at Wingate College. Bill has also performed with the Union Symphony, Charlotte Philharmonic Orchestra, Charleston Southern University Band, Charleston (SC) Community Band, Gaston Symphonic Band, and Charlotte Concert Band.  

"I've always felt like I was born about 50 years too late…I should have been in a Big Band in the 1920's/1930's. The StarDusters has given me that opportunity and I thoroughly love playing in this wonderful group".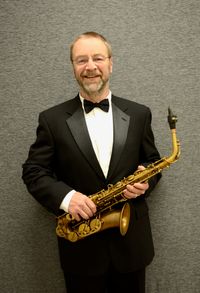 Greg Dunn, Alto Sax, Clarinet

Greg's love of the saxophone started, oddly enough, with the trumpet. "I started on trumpet in elementary school, but after two weeks the director decided that I was so bad, he moved me to alto sax."

After attending East Carolina University on a music scholarship, Greg put the horn down for nearly fifteen years. He returned to the saxophone when both of his children began playing in the school band. As a way to spend more time with his kids, the three of them joined the Gaston Symphonic Band, where he met Bill and Kenny Todd. He also plays Alto and Bari sax with the Gastonia based band Coming Up Brass.

Greg and his talented and lovely wife Anita reside in Gastonia. He has two grown children, Laura and Sean and two incredibly beautiful granddaughters, Ava and Ella. His son Sean is the baritone sax player for the Stardusters. Greg's full time job and other passion is golf and he is a class A member of the PGA of America.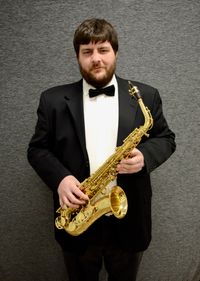 Sean Dunn, All Saxes, Clarinet

Sean was born January 21st, 1987 in Lexington, NC and moved with his family to Gastonia, NC in 1995. He attended Forestview High School, where he was an outstanding music student, participating in marching band, jazz band and several student ensembles. He graduated in 2005 and went on to Mars Hill College on a music scholarship, where he also took an active role in every aspect of the music department.

Though he has experience on all the saxophones (except the Bass Saxophone, which is an ongoing goal), Sean's instrument of choice is the Baritone. His father, Greg, also plays alto saxophone with the band.
 
Rhythm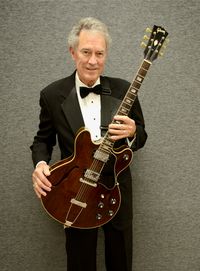 James S. Blair, Jr., Guitar, vocals

Jimmy is a musician with talents equally adept at playing several instruments but found his first love to be the guitar. While growing up in Gastonia his love of music emerged when he started out and became a proficient trumpet player. Through junior high, senior high and college he sat as the first-chair horn. While love of music was unabated, Jimmy didn't find the fulfillment he desired. Then he remembered the guitar, an instrument he tinkered around with in high school and that settled the issue. He sold his trumpet at a yard sale and concentrated on guitar.

For the past forty years he has played a variety of music including Rhythm and Blues, Rock, Swing and Jazz. He is an original member of The StarDusters where he adds variety to its repertoire as a sometimes-vocalist. Jimmy is a 1968 graduate of The Citadel, owns a textile sales and internet consultant agency. His work takes him through North Carolina and Virginia. His hobbies include water skiing, snow skiing and golf.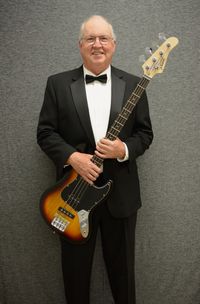 Bromley Sargent, Bass
Brom started playing regular guitar in 1963 but most of the early bands that he played in needed someone to play bass. "Or maybe they just didn't like my guitar playing," says Brom!
He moved to Gastonia in 1966 and played bass in several local bands until contacted by Ken Todd to join the Stardusters when they were first getting started. "I did not have much previous experience playing Big Band music but have grown to enjoy it as well as playing with the other 18 talented musicians."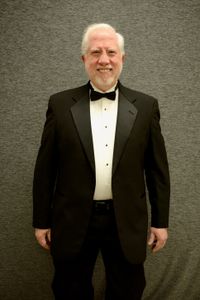 Jim Eddings, Piano
Bio Coming
Members Emeritus
Bill Brown, Alto Sax
Patrick Brown, Alto and Tenor Sax
Tim Barnett, Bari Sax
Randy Robertson, Tenor Sax
Jim Monroe, Trumpet
Steve Barnes, Trumpet
Guy Evans, Trumpet
Andrew Snapp, Alto and Tenor Sax, Clarinet
Jim Coulson, Alto Sax and Clarinet
Nathan Holbein, Piano
Jamin Shanti, Tenor Sax
Phil Lyeow, Tenor Sax
Bob Hallman, Trombone
George Benoy, Trumpet, Alto Sax
George Rawlings, Trombone
Mark Reece, Bass
Gerald Ligon , Bass Trombone

Marti Wetzell, Vocals
Jimmy Branham, trumpet
Warren Strum, trombone
Jacob Drum, Tenor sax, doubles on clarinet
Ben Reavis, alto sax, doubles on clarinet
Jim Daley, tenor Sax, doubles on clarinet and flute